Experienced remodelers and more than a few homeowners can tell some horror stories about unreliable contractors who walked out in the middle of a job or failed to complete the work as planned. For example, lifestyle blogger Aimee Lane told this story about her own kitchen remodeling disaster:
"Our head contractor had quit twice. The first time, after my entire kitchen was gutted. The second time right before the marble was ordered," Aimee wrote. "He sent some very mean and disgruntled text messages ….  Everything in us wanted to kick him to the curb, but we knew doing that would delay the process more and we were already worn out!"
"We had paid 77 percent of the job and still lacked the cabinets being aligned, completion of honing the stone, a kitchen sink, the range being installed, the hood being installed, the hood being trimmed, the backsplash being tiled correctly, a final coat of paint…" Aimee says. "We felt like we would be out some extra money getting this job complete, but knew it wouldn't be wise to ask for any money to be returned."
How can you avoid Aimee's fate? Listen to the lessons other homeowners have learned the hard way! Here are just a few things to keep in mind as you start planning your dream kitchen—things to know before you hire kitchen remodeling contractors and start tearing down those ugly counters and cabinets.
Make a Plan—And Stick To It
The most fun part of a kitchen remodel is the planning stage, right? Picking color schemes, imagining what your new countertops will look like, visualizing all the additional space you'll have … But it's important to make a plan and stick to it.
At Statewide, we've seen homeowners who abandoned their kitchen remodel plans because they found a neat appliance or gorgeous color and decided it was perfect for their kitchen. Stopping your project and changing direction is a problem. Remember, the wrong combination of materials and colors that could turn your kitchen project into an eyesore, so changing one thing usually means changing everything. Elements that look great on their own may not look good together, and a color scheme or appliance will look different sitting in your home than it looks on a showroom floor.
It's generally a good idea to select your electronic gadgets (like the refrigerator, trash compactor and dishwasher) before picking cabinets and countertops. It's easier to match cabinets to your appliances than it is to do it the other way around. One homeowner recently made the following comment on the home decorating and remodeling website Houzz:
"I think I made a mistake! I really love my new cabinets. However, I think the appliances don't look good with them. I really wish I had went with white appliances. …. Oh well, it's too late now. I'm just going to have to make the best of it."
That's why you make a plan in the beginning and stick to it.
Consider Hiring a Designer
Hiring a professional kitchen designer/decorator might be the best way to come up with a remodeling plan you can stick to. An experienced decorator can help you achieve your creative vision without getting sidetracked. He or she can save you time and money by avoiding problems that come up because they see those problems on a regular basis.
They can also help you make your plan. These professional kitchen planners know how to maximize storage, for example. They can help you save money by substituting the right materials for high-cost items. They may even be able to help you find the best local contractors for your kitchen job when the time comes to get started.
Decide on a Budget
Part of coming up with a plan is coming up with a realistic budget—and sticking to it. Many homeowners start out with visions of a glorious new cooking or dining space. As with many things in life, too many people have Champagne dreams and a Bud Light budget.
The good news is, you should be able to recoup most of your remodeling costs when you eventually sell your home. The bad news is you have to pay for it now. It's generally a good idea to limit your budget to  no more than 15 percent of your home's market value. And remember— kitchen cabinets usually take up about one-third of the typical remodel budget.
Think About How You Will Use Your Kitchen
The plan you and your designer/decorator will implement will be based on your goals and what you want from your new kitchen. Think about your family and your lifestyle and plan your kitchen remodel accordingly.
For example, does your family hang out and socialize in the kitchen? If so, you may want bar stools around a communal gathering area.
Do you like to cook? If so, does one person do it alone or do two or more people do it together? If your kitchen's busiest areas are around the sink, stove, and refrigerator, make sure these areas and appliances are not far from one another and always within easy access. Many designers refer to this area as the "work triangle."
These are the kind of things to keep in mind when selecting new features and the overall design of your kitchen.
Maximize Your Space
Increased storage is one of the top motivations behind many kitchen remodels. Statewide can help with home additions if you're able to expand your floor plan. Even if you can't increase the size of your kitchen, you can extend your counter work space by using decorative corbels (shelving supports) to create added room for your countertop.
How will cabinets and countertops be arranged to make the best use of your space? If you want to maximize a small area, you might consider using toe-kick storage ( beneath cabinet doors) for kitchen items that are rarely used. A remodeled pantry or cupboard configuration might give you more storage than you currently have.
And remember: Small add-ons and storage features like additional drawer dividers or cabinet storage solutions like pantry pullouts and lazy susans will increase your kitchen storage efficiency. And now's the time to think about those small storage upgrades; it will be more expensive to add them later if you decide you need them down the road.
Don't Take Lighting Decisions Lightly
Don't forget the importance of lighting. The colors you choose for your kitchen will look different under some lights (especially fluorescent lights). Halogen lights, on the other hand, are close to natural daylight, so they won't change your color scheme.
Have a Realistic Timeline
Thanks to the huge number of home remodeling TV shows, some people think a kitchen remodel is a quick process. After all, they usually pull it off beautifully in about 45 minutes in the shows, right?
Of courses, you don't really think a kitchen remodel can be completed in 45 minutes. However, it's still important that you don't fall victim to unrealistic timelines. On the TV shows, we see kitchens demolished and rebuilt pretty quickly. In reality, the timeline from starting the design to completing the work is usually many months.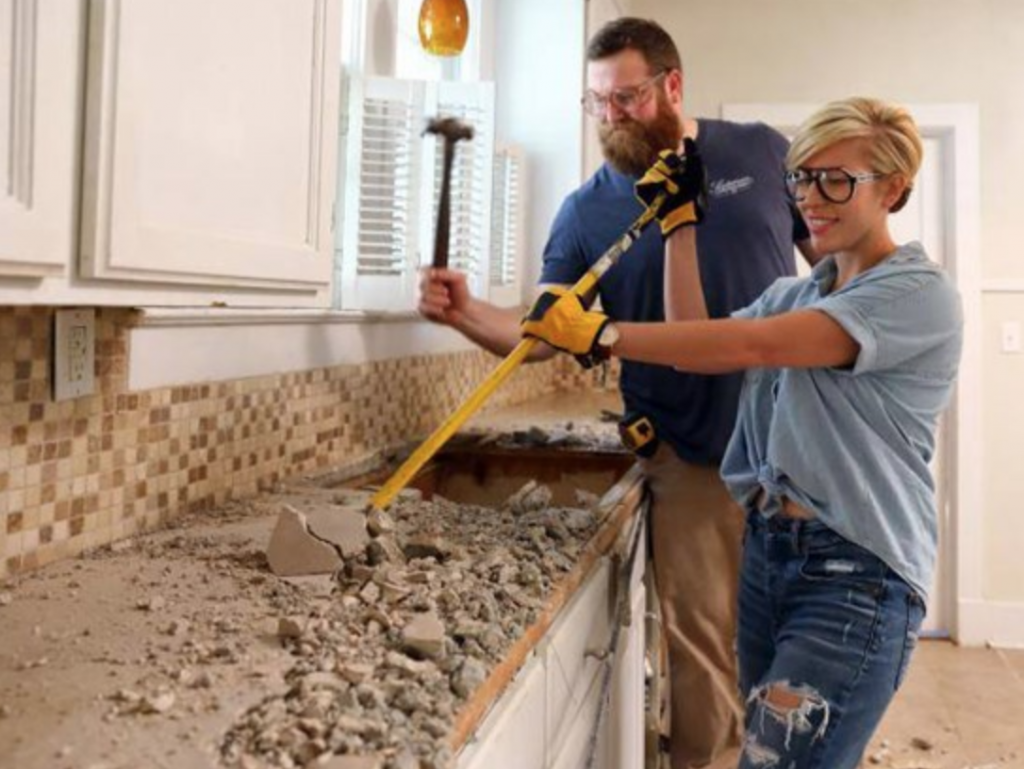 Photo courtesy of the HGTV show, "Home Town"
Make Sure You And Your Contractor Agree On What Is To Be Done
Speaking of timelines, expensive kitchen remodeling projects call for detailed quotes and proposals. Your agreement with your  kitchen remodeling contractors should have a start date and a completion date (or a few interim dates/milestones for a big job). A detailed description of the scope of work should explain exactly what the contractor will deliver. 
Even after you've made a plan, set your budget, worked with a designer and figured out all the goals for your home improvement project, you'll need make sure there wasn't any substandard previous work. On the surface, your kitchen may appear to be in good shape, but sometimes serious problems are often hidden, unforeseen and unnoticed. This might include faulty plumbing, electrical problems, mold, asbestos or insects—all issues that can derail your remodeling schedule.
Planning your remodel might expose some other issues that you hadn't considered. For example, you may discover that a wall you wanted to remove is actually a load-bearing wall. Which means changing your plans or coming up with an alternative support solution such as a beam or a beam and a post.  
This is rare, however. Here at Statewide, we can identify things like load-bearing walls ahead of time and include that in the budget. The only surprise we might see is after you do the demolition you may see where plumbing or heating/ventilation/air conditioning is within a wall that may have been load-bearing—we deal with those challenges as they come up.
If you identify issues with previous work you can come up with a plan to bring faulty work up to code. You can't do anything about incorrect or unpermitted work done on your home in the years past, so you'll have to resolve those problems before you can progress with your remodeling project so you can rest easy, knowing you're starting with a clean slate.
Get a Responsive Contractor
Kitchen remodeling is at the top of many homeowners' wish lists. It's also a leading source of consumer complaints and headaches when things don't go according to plan.
We've heard the horror stories (like Aimee's story at the beginning of this article). Lured by the promise of an attractively low bid, homeowners ignore warning signs and choose a kitchen remodeler who doesn't have a great track record.
One common complaint is that contractors don't return calls when something goes wrong. That's why you should hire a kitchen remodeler with excellent reviews. Remember: We're only as good as our last job, so ask for references and never hire a contractor who doesn't seem up-front about recent work history. If you feel like the contractor is someone you can't trust, keep looking.
Are You Planning to Sell Your Home?
If you plan to sell your home in the next few years, a kitchen remodel might be a good idea to maximize the value of your house when it comes time to sell. However, this probably isn't the time to create the kitchen of your dreams.
If you're sick of your kitchen and you know it needs upgrades, but you're planning to move within the next couple of years, go ahead and come up with a remodeling plan that covers the basics and stays within a reasonable budget. Let's face it: The next owners will start ripping out your cabinets and fixtures as soon as they move in. So make it nice and make it functional—but don't worry about making it the "kitchen of your dreams." Save that project for your next home!
Ready to talk about kitchen remodelings? Statewide Construction LLC has the bandwidth to handle the large projects, but the care and detail for the small ones. In an industry crowded with many  kitchen remodeling contractors, you'll appreciate our commitment to your vision and the quality of the finished product. With our systematic approach and commitment to excellence, your project has our undivided attention. Contact Clay today and we'll help you build the kitchen you want.