From Cary to Wake Forest, Raleigh-area commercial property managers know that roof maintenance and repair are inevitable. At Statewide, we specialize in roof replacement for apartment complexes, office spaces, retail properties and warehouses. But we also know a thing or two about commercial roof repair. We help owners and managers protect their investments and minimize operations costs.
With a commercial property, roofing companies like us have to make sure we consider every scenario before we attempt any repairs. Even if a leak or other roof problem needs urgent attention, there are other factors in play that a mind focused on immediate needs won't account for.
Example: a quick shingle patch that goes awry could result in a loss of income if your business is disrupted. If your commercial property houses residents or tenant companies, you can't risk moving them out of the building for days at a time if it could have been avoided by hiring the best roofer for the job.
That said, commercial roof repairs have to be made quickly. Waiting days for a contractor to come take a look might cause more damage in the end, meaning more expense and diminished ROI.
Statewide Construction LLC is a quality roofing service that specializes in commercial real estate, whether it's office, retail, industrial, medical or hospitality. Keep reading to see how Statewide handles the unique problems of Raleigh-area businesses when they call us for their roof repair or replacement needs.
Potential Issues That Call For Commercial Roof Repair
A good residential roofer can check for all types of problems, but it takes a commercial roofer to recognize the needs of commercial real estate and property management. First off, let's talk about the number one problem we see with local businesses: Leaks.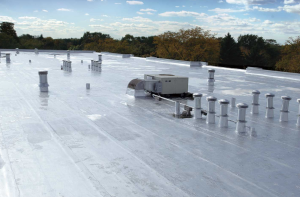 Leaks start small, but they get bigger and cause more damage along the way. If you're working to keep your operating budget down, you need to take care of the leak while it's small. This is going to prevent costly repairs down the road.
You don't want to have to shut down your business to address moisture infiltration into your roofing system. This not only cuts down on your productivity and ability to make money, it also accelerates deterioration of your roofing material and deck.
Manage a multifamily housing complex? If you have a roof that's leaking into an upstairs apartment, then you're going to need a roof repair as soon as possible to keep tenants from needing relocation.
Do you run a warehouse or other industrial facility? Chances are you have a flat roofing system that takes on a lot of stress — not just in sheer size and area, but in terms of exposure to the elements. Leaks can damage your equipment and products. These leaks also pose electrical and safety hazards.
Here are the biggest leak-causing issues we see with commercial roofs:
Commercial

roof membranes

can split, tear or crack over time—even with high-tech construction and professional installation.

Drains, gutters and scuppers

around drains can get loose or require additional sealing to prevent water from entering the building.

Pooling water ("

ponding

") is the main source of water intrusion on flat and low-slope roofs.

When

flashings

get loose or the seal is compromised, your roof will develop issues. Get a commercial contractor who can inspect the integrity of caulking and sealing of your building's flashing.
Reasons to Use a Commercial Roofing Company
Your roof is an investment. It's a business asset. You want to ensure that problems don't cost you too much money, time and lost business. A string of unprofessional repairs over time will mean the roof will need replacing much sooner than necessary. Keep in mind that DIY jobs could have implications on your warranty or your insurance.
Here are a few reasons why a commercial roofing company is best for repairs and (when needed) roof replacement:
They're Properly Licensed
Being licensed is an important aspect of the commercial roofing industry. It means a company is able to prove that they are knowledgeable and experienced with properties like yours. As licensed general contractors serving the Wake Forest and Raleigh area with roof installation for homes and businesses, Statewide Construction LLC, can help you with your business goals with minimal (if any) downtime.
They're Truly Business Partners
When you have a roofer who is your partner, it means you have someone who is invested in the success of your business. Trustworthy commercial roofing contractors can perform regular checks and maintenance for your business. This means leaks and other problems won't get out of hand before you notice them.
Commercial Roofing Contractors Understand Warranties
A professional will have information on what warranty is needed for your roof. At Statewide we've worked with businesses who didn't understand what their warranty covered, and sometimes they ended up paying out of pocket for something that was covered. We can help you make sure this doesn't happen!
Commercial Roofing Contractors are Insured
Roof leaks are sometimes a sign of a more serious problem. Hiring a pro for the job will mean that the job is done properly. There's a risk involved in roof repair that your insurance might not cover if you take the DIY route.  A good commercial contractor has the licenses and safety equipment, as well as insurance that covers any risk to themselves.
Other Roofing Considerations
A roofer who understands the unique challenges of commercial real estate won't waste your time. He understands things like power lines in and around the building. He knows zoning issues and building codes that have implications on the necessary repairs.
At Statewide, we understand that Raleigh businesses need special care. Since leaks are the leading cause of mold in North Carolina, water damage can cause severe damage to your building—and your bottom line.
If your facility has internal or roof damage, make sure you let your insurance agent know. If your policy covers interior damage from roof leaks and the cost of repairing your roof, inform your agent so that you are compensated. Give Statewide a call today at 919-795-9702 or book an appointment now to get a consultation and to receive a service estimate.